Lighting Services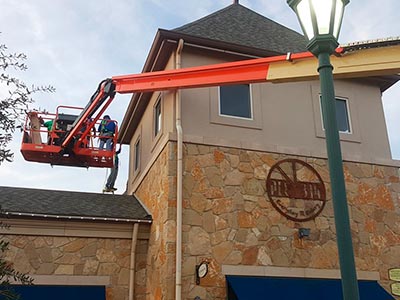 We at Jack Frost Lights have demonstrated competence in residential, commercial, seasonal, and permanent lighting. Whether you want to engage our services for domestic Christmas lights installation or require permanent lights put on your business site, we are professional and experienced enough to manage the task. We are meticulous in our work and handle every job safely and to recognized industry standards. Our firm has the appropriate permits and insurance cover to take up all sorts of commercial and residential lighting projects. We use products from Everlights; it is a proven brand with superior products. Our team is here to provide you with all the information you need and help install permanent and seasonal lights on your commercial or residential premises.


Commercial Lighting
We can help boost your brand recognition, revenue, and foot traffic with exceptional commercial holiday lighting services. The fact that we are local means that we can cater to your lighting needs quickly and effectively. You'll be pleasantly surprised by how reasonably priced our superior lighting services are. You'll attract new customers while also dazzling existing ones by using Everlight's beautiful multi-color lighting systems on your Christmas trees. You're building and near surroundings, as well as trees, both artificial and natural, are beautifully decorated. Many business owners find it time-consuming, costly, and labor-intensive to install lighting during the year for numerous reasons. With permanent lights, you can stop worrying about using subpar Christmas lights on your commercial property. When it comes to outdoor illumination, we only utilize the best materials available, and traditional white lights give business premises a warm, welcoming look. Lighting is one of the best ways to keep customers coming back for more. Read More About Commercial Lighting »


Residential Lighting
Beautiful home lighting is something that almost everyone likes, especially during the holidays and similar special events. It takes a lot of time and effort to set up all the lights and make sure that the outdoor spaces are adorned according to the suitable home lighting styles. Why don't you sit back and enjoy this holiday season while our experts manage this critical task? Many folks need help with their Christmas and other permanent outdoor lighting systems tasks, and that's our specialty. Our employees are creative and dedicated to giving the homes in the neighborhood a unique appeal. It's risky to use ladders to put fairy lights in your yard or home, even if you have the time. If some rooms are out of reach, it may not be easy to illuminate your property correctly. Therefore, it's best to hire professionals like us. For the best Christmas lighting, we only utilize Everlight items of the highest quality. Read More About Residential Lighting »


Seasonal Lighting
Lighting for homes or businesses is no problem for our team of seasonal light installers. For unique holiday lighting inspiration, we'd be happy to share some ideas with you or collaborate with you to turn your thoughts into reality. Putting up Christmas lights is a lot of fun, but it may take a long time. Climbing a shaky ladder amid winter is dangerous and untangling and fixing all the lights is a hassle in and of itself. It's not exactly a delightful pastime to go searching for one or a few blown Christmas bulbs. Leave the work to our holiday light installation company so you can concentrate on what's most important while we take care of the rest! Our service team will make sure your lights work correctly throughout the holiday season. When you hire us for your seasoned seasonal lighting needs, you'll have one less thing to worry about over the holidays. Read More About Seasonal Lighting »


Permanent Lighting
Brighten your house with our tried-and-true outdoor lighting services. It is the easiest and most effective method to decorate a building for any event, whether residential or commercial. You can use our lights for occasions, including Christmas, the Fourth of July, birthdays, and Halloween. No more clambering about on your roof to hang fragile Christmas lights- we employ only the most reliable and long-lasting lighting available in the market. Classic white lights provide an air of elegance and refinement to any space and are an excellent home security measure. You can adjust the color temperature of these stunning white lights with home automation or switches. If you want, opt for warm or white-colored lights as well. To create outdoor lighting solutions that accentuate your home's architectural elements, we work with a group of highly creative experts. This Christmas season, let us help you make your home stand out from the rest with custom lighting solutions. Read More About Permanent Lighting »

You will find that our light installations are cost-effective and convenient. In addition, our company handles maintenance, replacement, repair, and upgrades of all residential, commercial, seasonal, and permanent lights. We can also help with extensions and upgrades of your existing light installations. Our focus on quality, reliability, and the convenience of quick access to our services has made us one of the most preferred companies in the region. Our experts are here to help with all your residential and commercial lighting needs in and around Frisco, TX. Please call Jack Frost Lights at 972-712-5293 or drop us a line via this Online Form for more information about our services. We will get back to you soon to answer your queries and discuss your requirements.
We Provide Services to the Following Cities, Towns and Surrounding Regions of TX: